Hey guys! Today I'm super to excited have a Q&A with the wonderful Amanda from Running with Spoons. Amanda has an amazing story and is truly inspirational. And if you couldn't tell already by yesterdays post, I love all of her recipes. She has some serious food porn over there at Running with Spoons!
So let's jump right into it:
______________
1) Tell us a little bit about the mastermind behind Running with Spoons.
Hi 9toFit readers! I just wanted to start by saying thank you to Elise for the feature! My name is Amanda and I guess I can take credit for being the evil mastermind behind Spoons. I'm a 28 year old Canadian girl living in Edmonton, Alberta, currently studying to become a certified health and nutrition coach. After graduating with a BA in psychology and spending a few years working in the field, I realized it wasn't something I was happy doing so I took a leap of faith and started working towards changing careers. It's never too late to pursue your dreams!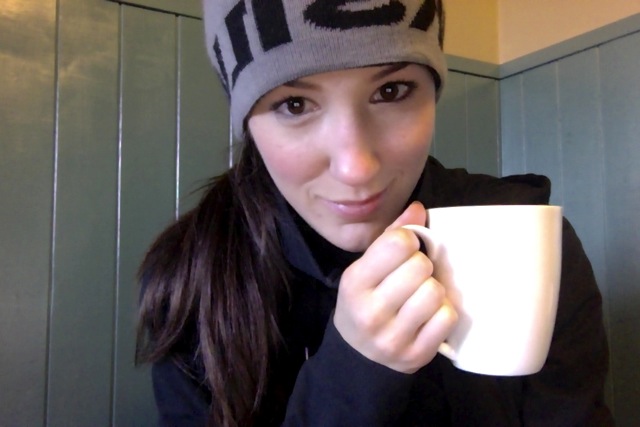 2) How long have you been blogging for and how did you end up getting into it?
I started blogging at Spoons in late August of 2012. I had a few stints with blogging prior to that, but never took it too seriously. As for how I got into it, initially it was a way to hold myself accountable and keep myself distracted while I recovered from my eating disorder, but it eventually morphed into a place where I could indulge in my love of writing and photography, and share my passion for healthy living with other people.
3) When you aren't working or blogging, where would we find you?
In the kitchen eating and/or baking, most likely! I kid… sort of. Now that it's winter, I spend a good chunk of my time out on the slopes snowboarding, but I'm also a pretty big fan of hanging out at home with a good book, catching up with friends, and seeing my family on the weekends.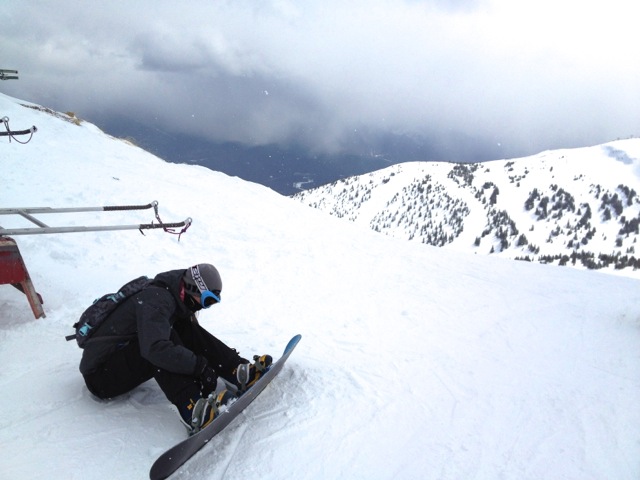 4) If you had to describe your blog it 3 words it would be: 
Lighthearted, tasty, and [hopefully] inspiring.
5)  Eating healthy is great, but it's easy to get obsessed with being perfect.  Can you give us a quick snapshot of some of the problems you have faced but overcame regarding your eating?
I used to be completely obsessed with counting calories and macros — to the point where I was actually weighing my vegetables and spending hours a day planning out 'perfectly' balanced meals. I was also extremely rigid with my eating habits and would only allow myself to eat at certain times of the day, forcing myself to wait until those allotted time slots, even if I was hungry outside of them. I also somehow managed to convince myself that I didn't have a sweet tooth, when nothing could be further from the truth.
6) For women out there struggling with their own eating disorders, what advice would you give?
Get frustrated. Recovery is impossible unless you really want to recover, and to really want to recover, you have to realize how much your eating disorder is stealing from you and how much more you deserve. Frustration is what got me through the hardest times. What it came down to was that I got sick and tired of being sick and tired. I hated that everyone around me was having fun and enjoying life while I was thinking about whether or not I should have enjoyed that extra carrot at dinner (for real!). It's not worth missing life for. I know it seems like you can never be happy at a healthier weight, but you CAN and believe me — you'll enjoy life a lot more.
7) Has blogging affected the way you eat? If so how?
This is one of those chicken vs. egg questions… I've always had an interest in healthy eating, but blogging has definitely made me branch out and try a lot of new things that I ended up loving. Greek yogurt, almond butter, coconut, fancy oats, avocados, kabocha, hummus, creative veggie dishes… SO many foods that blogging introduced me to that are now part of my daily diet.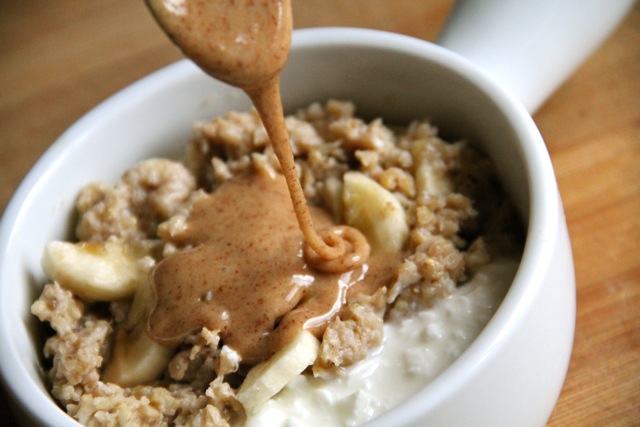 8) What tips would you give to bloggers looking to expand their number of readers?
Make connections with other bloggers and get your name out there! Blogging is all about being social and you can't just sit around waiting for other people to stumble across your blog. Make sure to comment on other blogs and reach out to other bloggers that you can relate to. Make an effort to be active on various social media platforms (Twitter, Facebook, Instagram, Pinterest), and be personable with your readers by answering their questions and replying to their comments. Also, focus on the quality of your content and photography. Great pictures capture a reader's attention, and quality content makes them want to come back.
9) What is your go to snack when you are busy and don't have too much time to cook something up?
You can never go wrong with a simple banana slathered in almond butter.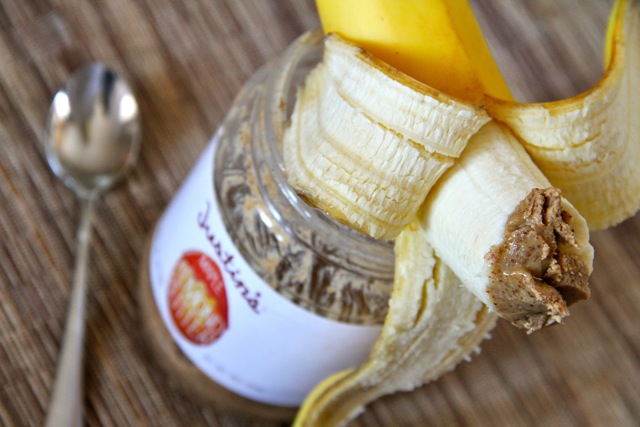 10) If you had to live off of three recipes you've posted, what three would you choose?
Anyone who reads my blog probably knows I have a huge sweet tooth, and right now I'm really obsessed with my chocolate gingerbread brownies and my double chocolate mug cake. The one recipe that gets made more than any other is definitely my homemade applesauce, though — I always have a batch on hand!
11) Can you share with us an old school Running with Spoons recipe?
With pleasure! Here's one for my favourite No-Bake Almond Fudge Protein Bars.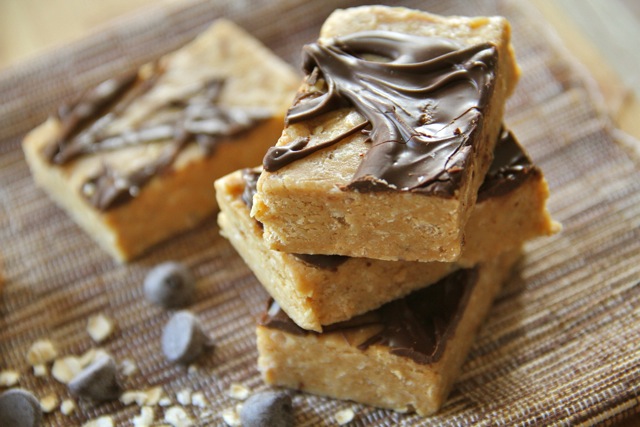 Ingredients
1 cup oat flour (or regular oats ground up in a blender)
1/2 cup quick oats
1/3 cup vanilla protein powder (I used whey)
1/2 cup crispy rice cereal
1/3 cup almond butter (or peanut butter)
1/3 cup honey
1 tsp. vanilla extract
Optional: 2-3 Tbsp. chocolate chips for melting
Instructions
Prepare a 9×5 loaf pan by spraying it with cooking spray. Set aside.
If making your own oat flour, place rolled oats into a blender or food process and process until they turn into a fine powder.
In a medium-sized mixing bowl, combine oat flour, quick oats, protein powder, and crispy rice cereal. Mix until well combined and set aside.
In a small pan over medium heat, add almond butter and honey, stirring until the almond butter is melted and fully combined with the honey.
Remove from heat and pour into the dry mixture. Stir until everything is fully combined.
Pour into prepared loaf pan. Using a spatula or your hands, spread the mixture evenly in the pan, pressing down firmly.
Optional: place chocolate into a microwave safe bowl and nuke on high in 20 second intervals, mixing between each. When chocolate is fully melted, drizzle over the top of the packed mix using a spoon.
Place pan into fridge and allow to cool for ~30 minutes before cutting into bars.
THANK YOU Amanda for stopping by 9toFit! I really love no bake recipes, and this looks addicting!  And if somehow you haven't checked out Running with Spoons  yet (which is doubtful!), go there ASAP!
What is your favorite recipe from Running with Spoons?
How do you make sure you don't cross the line between eating healthy and being obsessed with eating perfect?